COMING SOON! SPANKY JR
5W, 6V6 Single-ended, Pure Tube Class-A 110 Combo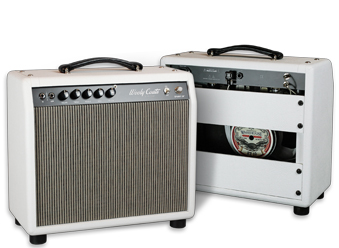 COMING SOON! Spanky Jr:
The SPANKY Jr is our new high-headroom combo amplifier based on our popular Wooly Coats Spanky Series in a 110 Combo format!  Featuring an overbuilt power transformer (identical unit found in our Spanky MKII) and power supply delivering ~5+ clean watts of power in a 24 lb. grab-n-go combo.  Features include an American voiced preamp, 3-band EQ optimized for popular pickup configurations, tube driven spring reverb featuring FLOOD MODE, tube rectified, cathode biased and more…
MAGFRAG™ PICKUPS
by 3RD POWER
Why I Created Pickups:
"Back in 2016, I designed an amplifier call the Citizen Gain CSR that went on to become our flagship at the time. I remember saying to myself, 'That's it – I don't think I can create an amp that tops the CSR.' But I still felt that there was more work for me to do by way of improving guitar tone. And then it hit me, I had focussed decades on improving amps and cabs – literally the end of the signal path. I needed to create something that helped musicians where they needed it most – at the inception of the electronic signal. MAGFRAG Pickups by 3rd Power are the result. I've designed a lot of amazing gear over the years and I believe that MAGFRAG Pickups will one day go down as my finest, most accessible and most meaningful creation."
– Dylana Nova Scott
NEW! EXTRA SPANKY 6VEL
High Headroom, Guitar and Pedal Platform Amp
NEW! Extra Spanky 6VEL:
The EXTRA SPANKY 6VEL is our new high-headroom version based on our popular Wooly Coats Spanky MKII – but with well, extras!  Such as overbuilt transformers and power supply delivering ~30+ clean watts of power in a 31 lb. grab-n-go combo.  Features include an American voiced preamp, 3-band EQ with two modes per band, tube buffered effects loop, tube driven spring reverb, our patented Hybrid-Master AND the ability to run 6L6, EL34, 5881 and 6V6 and more…
THE KITCHEN SINK 6VEL
The Ultimate in Tone and Versatility
Kitchen Sink 6VEL:
If you're the kind of guitar player that wants freedom of expression along with total control of your sound, then we've got some very exciting news for you! 
NEW! AMPS OF TOM BUKOVAC
For Kemper Profiler Users
Tom Bukovac Amps for Kemper Profiler…
Hit Makers: Vol. I Amp Pack for the Kemper Profiler platform features over 70 studio-quality amp rigs profiled from the hit-maker amp collection of guitarist and 'Session Man', Tom Bukovac.
SPANKY MKII
Vintage Vibe Grab-n-Go!
Retro Single Channel Grab-n-Go…
The Wooly Coats Spanky MKII is an update of our popular Spanky amplifier with its classic Black-panel American preamp with an expanded mid-range frequency control and combines that with an over-built power supply to deliver throwback tone with extra headroom and punch making it excellent for pedal-platform players.
ROOSEVELT DRIVE
Jerry McPherson's "Always-on" Preamp/EQ/Drive Pedal
The "Always On" Preamp/EQ/Drive Pedal…
Inspired by Ibanez's Mostortion, the ROOSEVELT DRIVE is a FET based preamp/EQ/drive pedal that FEELS like an amp. This is the "always on" pedal that Jerry McPherson's been talking about. Hand-built from the ground up, the Roosevelt Drive's EQ section delivers precision response with warmth (no plastic sounding high frequencies) so you can dial in and refine your tone exactly how you hear it in your head. 
3RD POWER produces a range of USA made guitar amplification products, including amplifiers, speaker cabinets, effects pedals and guitar pickups carrying either the "3RD POWER" or "Wooly Coats" brand name. Over the past ten years, the company has established a solid reputation as a manufacturer vintage-inspired guitar products based on their patented and proprietary technology. A diverse professional users group include Lenny Kravitz, Joe Walsh, Vince Gill, Dann Huff, Audley Freed (Sheryl Crow), Sadler Vaden (Jason Isbell), Stuart Garrard (Delirious?, Micheal W. Smith), Gary Hooker (Brad Paisley), Chris Wrate (Kelsea Ballerini), Bennett Lewis (Maren Morris), Evan Weatherford (Little Big Town), Boo Massey (Miranda Lambert), Jon Conley (Kenny Chesney), Ben Helson (Dierks Bentley), Brandon Bagby (Audio Adrenaline, Mandisa) ,  Sage Greer (Elevation Church), and many others. Founder/entrepreneur Dylan Nova Scott is an American patented inventor, guitarist and industry veteran whose personal quest for the ultimate guitar tone led her to develop the most unique amp designs on the market today.
1307 Jewel Street
Nashville, TN 37207
615-945-3393

© 2021 3rd Power Amplification LLC. All Rights Reserved.