SPANKY MKII+
Updated 20 Watt American Workhorse
Spanky MKII+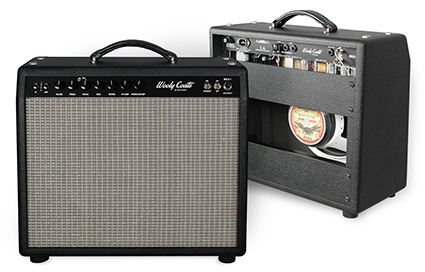 Grit [gr-it] noun
'To have the drive, stamina and determination to push through any challenge or obstacle thrown your way until you succeed.'
That pretty much sums up the new SPANKY MKII+ 112 combo.  The SPANKY MKII+ takes the legendary Spanky MKII and gives it more clean headroom.  And when you want American-flavored grit, there's a new front panel switchable boost mode to take it to the edge of breakup or all the way over the top!
We've Updated the Spanky MKII!
American Clean and Grit with Timeless Styling
More Reliable
The SPANKY MKII+ drops the 5AR4 rectifier tube (a potential source of power supply failure and tube rattle) opting for a more reliable solid-state diode rectifier power supply design that's perfect for this workhorse of an amp.  This increases the headroom of the amp but don't worry, the SPANKY MKII+ still oozes with rich, warm and articulate tube tone and feel.
More Tone
The SPANKY MKII+ adds a Gain Boost toggle switch to take your tone up to, as well as over the edge.  With the boost engaged, the SPANKY MKII+ breaks up more like a blend of both tweed American and British blues style amps of the late 50s and 60s.  We've also upgrade the speaker to the WGS ET-65 for maximum headroom, articulation and warmth.
Easier to Navigate
The SPANKY MKII+ now features all controls and switches on the front panel at your fingertips!  Case in point, we moved the HIGH-FREQUENCY DAMPING control to the front panel so you can fine tune your high frequencies without requiring access to the back panel.  Of course, our all-tube spring reverb is on board to add the perfect amount of ambience while HybridMaster keeps the volume at the perfect level for the room.
Updated Control Surface
Front Panel Access to all Controls

How It Works
The SPANKY MKII+ features a 3-Band EQ features so you know you've got the tonal versatility you need to get things sounding just right.  The MID BOOST toggle switch allows you to jump your signal passed the tone controls for a supremely touch-sensitive sustain and grit.  See below for a description of each of the controls.
The SPANKY MKII+ features HI and LOW inputs.  The HI input provides maximum clarity, detail and punch for your guitar signal.  The LOW input has a gentler, balanced frequency and dynamic response.  For maximum chime and presence, use the HI input.  For warmer tones, use the LOW input.
The SPANKY MKII+ Volume Control sets the feel, tone and temperament of your guitar signal. Settings around 11-o clock are clean, punchy and substantial.  Settings after 1-0 clock  begin to introduce edge of breakup tones (especially with humbuckers).
The SPANKY MKII+ features a three band EQ arranged across TREBLE, MIDDLE and BASS controls.  For enhanced touch-sensitivity and sustain, bypass the tone controls by placing the BOOST SWITCH in the 'up' position.
Master Section
Finalize Your Tone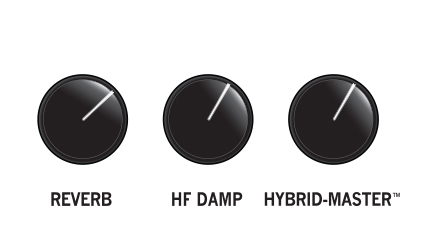 How it Works
The SPANKY MKII+ features a mastering section to provide the tools you need to refine and enhance your tone.  The REVERB controls the overall sense of space to your sound.  HF DAMP controls the overall high frequency content of the output section.  HYBRID-MASTER™ controls your overall volume.  See below for a description of each control here in the mastering section of the amplifier.
The SPANKY MKII+ features a lush Class-A tube driven spring reverb effect to give your tone a vintage-style ambient effect. The REVERB knob controls the overall sense of space to your sound.
HF DAMP allows you to control the high frequency content of your sound without killing the chime and harmonics.  Use this control when perfecting your sound in artificial listening environments such as in-ear monitors. Or, use it to sweeten up the high frequencies as part of your overall sound.
HYBRID-MASTER is our patented volume management circuitry that allows you to control the overall volume in the room independent of the tone and feel.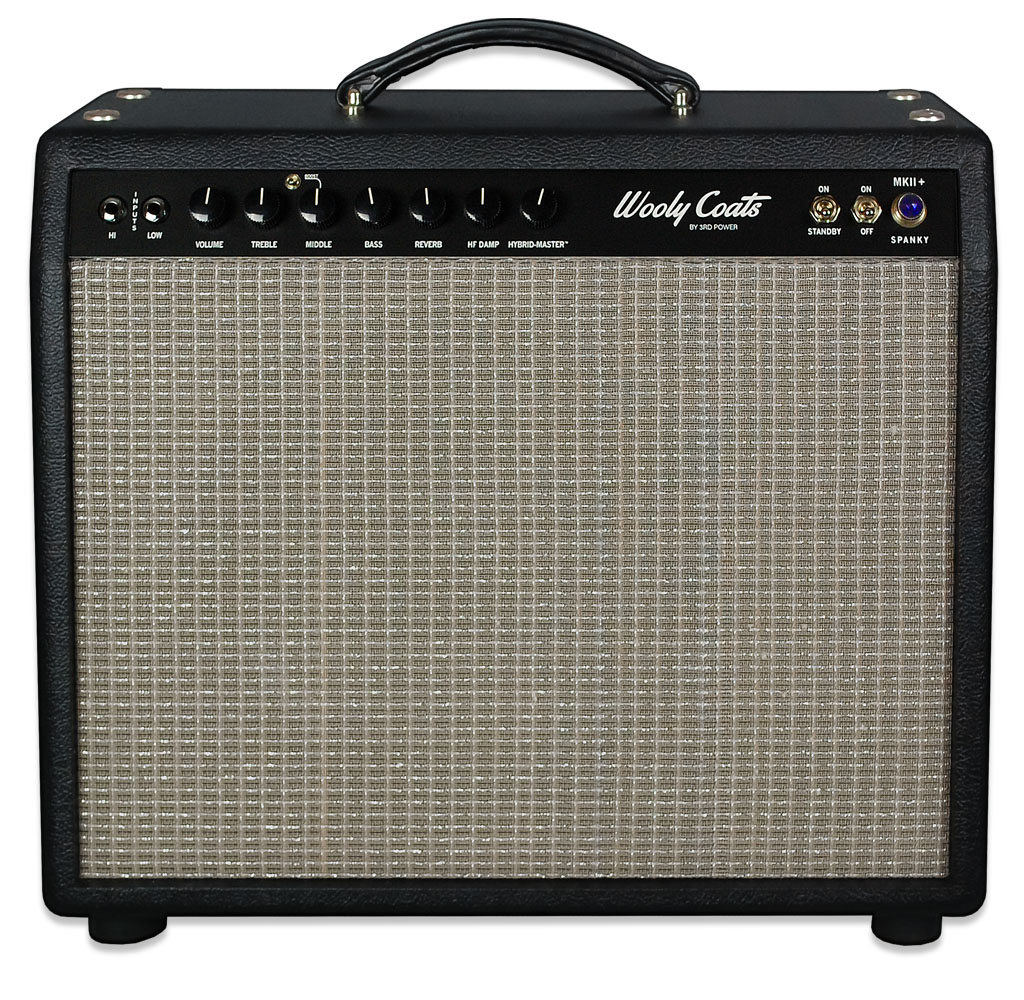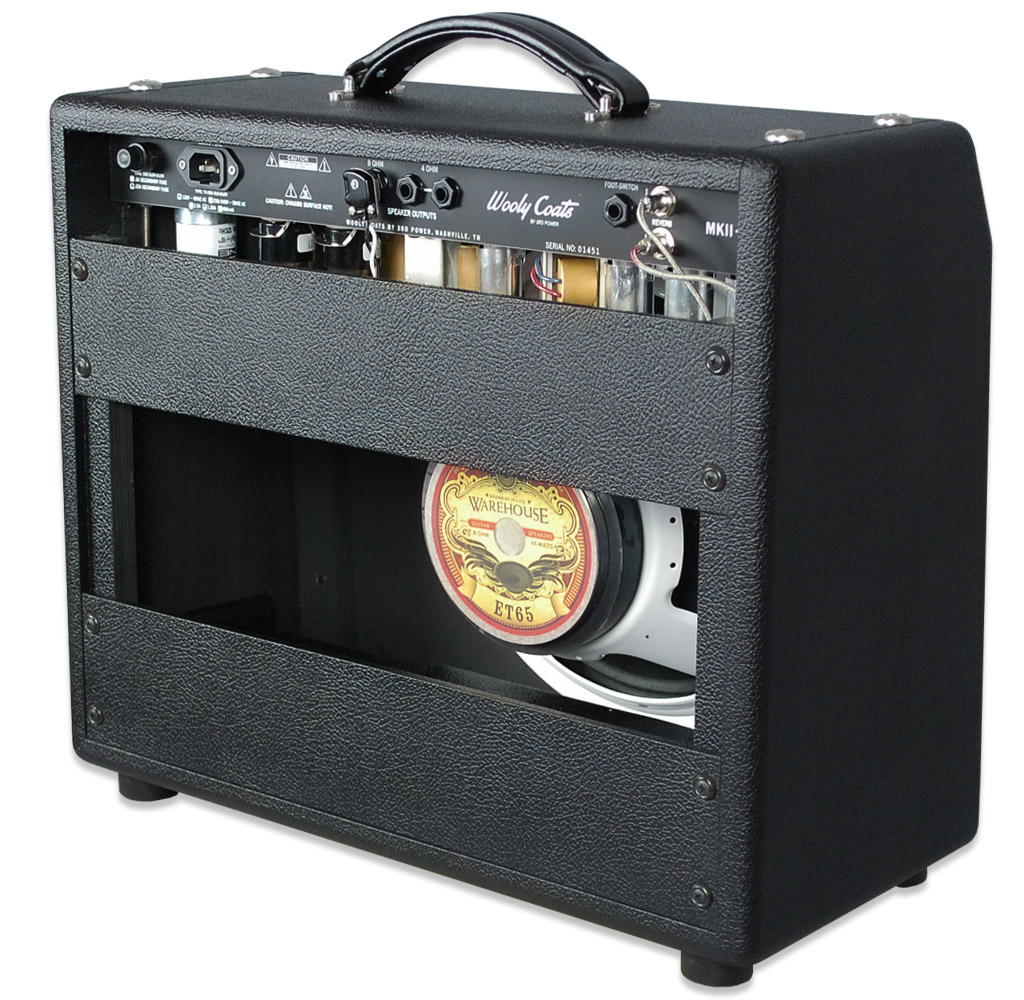 • Clean, American Voiced, Preamp Section
• 3-Band EQ with Bypass Switch (Boost Mode)
• Long-tailed-pair phase inverter for greater headroom
• Tube Driven Spring Reverb
• 6V6 (20W) Class-AB Operation
• Premium American-made Heyboer Transformers throughout
• Premium American-made 12′′ WGS ET-65 Speaker
• Patented HybridMASTER volume management technology
• Unique Treble Damping circuit for post tone-stack high-frequency EQ
• 8 ohm and 4 ohm speaker jacks
• Power and Standby switches on the front panel
• Mallory and Orange Drop coupling capacitors
• Choke filtered power supply
• Limited Lifetime Warranty

| | | |
| --- | --- | --- |
| Model Name: | | Spanky MKII |
| +Power: | | Class AB, ~20 Watts |
| Power Tubes: | | JJ 6V6 duet as standard |
| Preamp Tubes: | | V1 – V2: ECC83, V3 – V4: Sovtek 12AX7 LPS |
| Tone Controls | | Volume, Treble, Middle and Bass, Bypass Switch |
| Reverb Controls: | | Reverb Level |
Other Controls & Features:
HF Damp Control for managing your high frequency content. HybridMASTER™ Level Control for fine tuning your volume without changing your tone.
Weight:
31 lbs.
Case Composition:
Solid 3/4 in. Pine
Speaker Output:
One 8 Ohm and Two 4Ohm Jacks
Dimensions:
3/4 in. Solid Pine Cabinetry, Birch Front Baffle.
112 Combo: 19.875″ (W) x 16″ (T) x 9.5″ (D)
Head: 19.875″ (W) x 8.675″ (T) x 9″ (D)
Operating Voltage:
120V is standard. Export 240V and other mains voltages are available
| | | |
| --- | --- | --- |
| Standby Switch: | | Standby Switch located on front panel |
| Rectifier: | | Solid-state diode rectified |
| Certification: | | CE Certified |
NOTE: Standard finish for this model include black levant tolex, black faceplate and silver grill cloth. Product images on this page show the unit with optional ivory tolex and blues breaker grill cloth. Please see our Custom Shop page for this and more available options.
Spanky MKII+ ships as follows:
• Spanky MKII+ 112 Combo Amplifier
• Tolex color is black levant with classic silver grill cloth as standard.
• Control faceplates are black as standard
Pricing:
$2399 USD (Head Version)
$2599 USD (112 Combo Version)
Custom Shop Options:
• Please see our Custom Shop page for details
How to purchase:
Visit our dealer page to locate an authorized 3rd Power dealer nearest to you as ordering through one of our dealers is the quickest way to get a Spanky MKII+. If you don't have a dealer in your area, or your preferred dealer is not currently on our list, you can contact us for assistance and we'll make sure you get taken care immediately to ensure your spot in the production cue. EMAIL: [email protected]
NOTE: Lead time for this item is currently around 6 to 8 weeks.
NOTE: 220/230/240V Versions are also available
WARNING: Cancer and Reproductive Harm http://www.p65warnings.ca.gov
1307 Jewel Street
Nashville, TN 37207
615-945-3393

© 2021 3rd Power Amplification LLC. All Rights Reserved.