LOVE DRIVE
Wave-shaping Preamp/Drive/EQ Pedal
Love Drive Playthrough w/ Kenny Greenberg
Love Drive Playthrough w/ R.J. Ronquillo
Preamp/Drive Pedal
with Wave-shaping EQ
'I don't know, my tone is just better, wider, fatter, richer, with more harmonic content and more clarity'… this just might be how you'd describe the new LOVE DRIVE to your friends.  If total sonic immersion is your thing then the LOVE DRIVE is the pedal to end your search for a rich, dynamic, 3D sounding preamp/drive/EQ pedal.  
Backed by a limited lifetime warranty and built like a tank, the LOVE DRIVE features hand wired, through-hole construction so you know you'll be able to count on it to perform night after night.
3-band Wave Shaping EQ
Precision Lows, Detailed Mids, Articulate Highs
How It Works
The wave-shaping 3-band EQ on the LOVE DRIVE allows you to refine and craft your tone in a myriad of ways.  To illustrate level of control you'll have in shaping your tone, we fed a sine wave signal into the LOVE DRIVE and attached the output to an oscilloscope.  As you can see, by simply twisting the knobs the audio signal can be manipulated, twisted and contorted, or crafted and refined for whatever your needs may be.  It will be appreciated that the LOVE DRIVE is very capable of helping you match tones between different amplifiers as well as guitars.  
For example, it is possible to craft a fat guitar tone with a single coil pickup through an American voiced amplifier and make it sound similar to running a humbucker plugged into a British voiced amplifier (minus the actual humbucking of course).  
With the LOVE DRIVE refining your tone can be as subtle as tweak here and there.  It's also possible to craft British flavored tones (Plexi as well as AC) even when performing through typical American voiced backline amplifiers.
The Drive Control sets the feel, tone and overdrive content of your guitar signal. Settings up to ~10-o clock are clean, punchy and substantial.  Settings between 10 and 1-0 clock take you to edge of breakup tones (especially with humbuckers).  From there, you're crafting overdriven textures and lead tones.
The LOVE DRIVE features a wave-shaping three band EQ arranged across TREBLE, MIDDLE and BASS controls.  Your low frequencies will have depth, traction and punch – like you would expect from one of our tube amplifiers.  Your mids will bloom and track with an instantaneous and percussive feel.   Your highs will sparkle and sing without sounding harsh.
The Level Control sets the overall signal volume exiting the LOVE DRIVE. The active buffered output circuitry is designed to deliver a pure, clean and transparent final gain stage that will interface very well with all our downstream devices.  The output buffer is disengaged when the LOVE DRIVE is bypassed.
Analog Devices AD822ANZ Op Amp
Ensures Smooth, Harmonically Detailed Tone
How It Works
One key to the LOVE DRIVE's stellar performance is the Analog Devices dual channel AD822ANZ precision, low power FET input op amp.  One thing these types of devices have in common with dual triode preamp tubes (such as the 12AX7) is that they can be arranged as two separate gain stages, and that the voltage applied to the gate (think grid of a tube) proportionally controls the current flowing through the channel.
Operating in single-supply mode, the AD822ANZ offers high impedance and low noise current flow (both good for low voltage electric guitar signals).  Thanks to the high headroom circuitry design, the LOVE DRIVE can easily handle your guitar's audio signal without concern for over-voltage phasing issues that can lead to harsh tones when pushed.
Hand Made in Nashville, TN
Featuring Through-hole, Amp-grade Components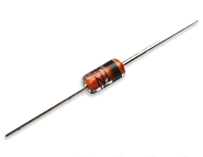 The LOVE DRIVE employs amp grade components such as film and electrolytic capacitors and metal film resistors.  Additionally, the unit utilizes four classic 1N4148 rectifier diodes in the feedback loop for variable symmetrical clipping. The tube-like compression of this diode is another key element to the LOVE DRIVE's excellent performance.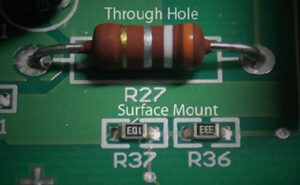 Through-hole components are used for high-reliability products that require stronger connections between layers. Whereas SMT components are secured only by solder on the surface of the board, through-hole component leads run through the board, allowing the components to withstand more environmental stress.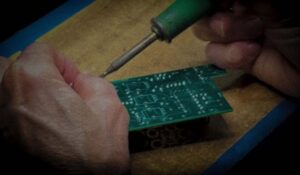 Each component of the LOVE DRIVE is hand picked, placed into the board, and soldered by hand.  Each lead is carefully trimmed.  Each wire is carefully placed, twisted and trimmed to length for optimal performance and low noise.  Every single nut and screw is hand tensioned to ensure a solid and rugged assembly.
Rugged and Road Ready
Backed by a Limited Lifetime Warranty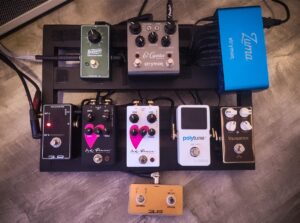 Limited Lifetime Warranty
Backed by a limited lifetime warranty, the LOVE DRIVE is built like a tank, bench tested and road ready!
1307 Jewel Street
Nashville, TN 37207
615-945-3393

© 2021 3rd Power Amplification LLC. All Rights Reserved.