DIRTY SINK 6VEL
British Crunch Under Total Control
Dirty Sink 6VEL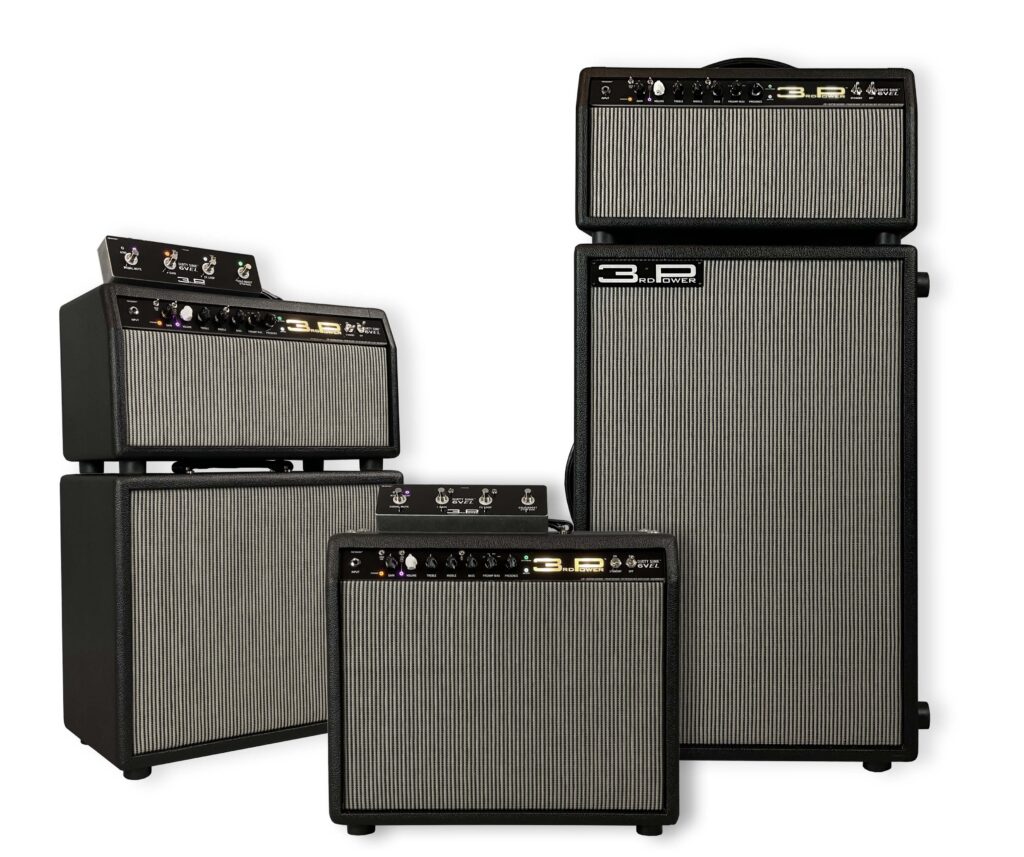 The Ultimate British Crunch Guitar Amp System
The DIRTY SINK 6VEL is our new British-Crunch voiced amplifier based on the dirty channel of our flagship, Kitchen Sink 6VEL amplifier and features point-to-point turret board construction.  Loaded with M6-Grade Steel transformers and an overbuilt power supply delivering 35+ watts of power available in a 32 lb. 112 grab-n-go combo or 22 lb. compact amp head.
Features include a selectable Plexi/Cascade voiced British preamp, Dual Mode 3-band cathode-follower EQ (JTM/JMP), 4-way Preamp Bias Selector, Foot-switchable preamp gain boost, Foot-switchable tube buffered effects loop, Foot-switchable lead boost, our patented Hybrid-Master, external bias test terminals with back panel adjustment control, Switchable internal cooling fan, AND the ability to run 6L6, EL34, 5881 and 6V6 and more – hand-wired in the USA and covered by a LIFETIME WARRANTY.
Plexi, Cascade Dual Mode Preamp
British Clean to Massive & Mean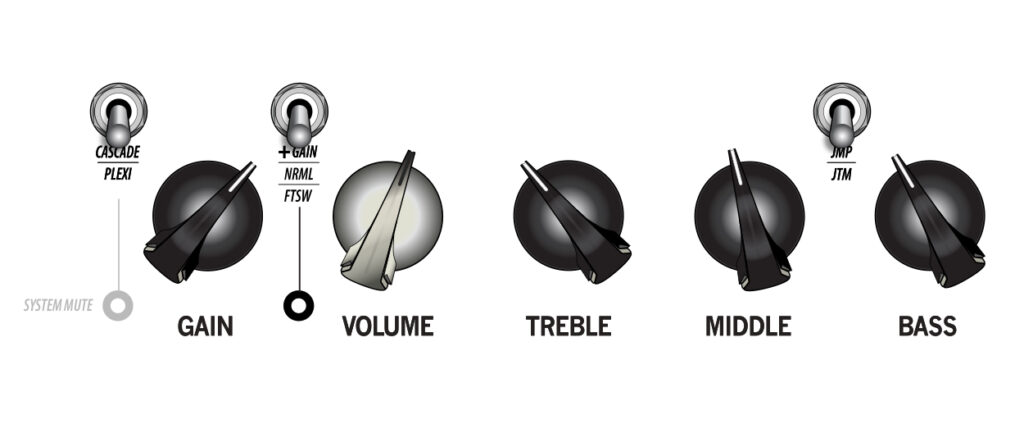 How It Works
The DIRTY SINK 6VEL features a tone stack voicing switch that delivers the sweeter JTM tone control voicing and balanced gain response in one position, and the more in your face JMP voicing in the other. The Plexi/Cascade switch lets you select the amount of signal gain on tap to and assigns it to the Gain control knob. Plexi Mode is where you'll find Crisp British clean to crunch. Cascade Mode is where you'll find scorching high gain tones. The Gain Boost switch engages even more gain sending the tone stack driver stage into clipping without compromising the overall headroom of the tone. See below for a description of each of the three individual amp voices.
Preamp Bias
Unlock Tube Tones Like A Cheat-code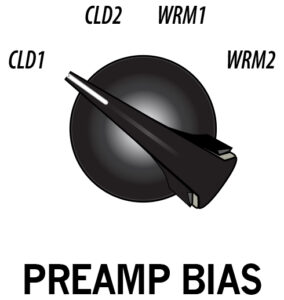 How It Works
The Preamp Bias control is for players who thrive on exploring and crafting new guitar tones. Tube rolling in the preamp section will never be the same. It's like a cheat code for tone junkies!
The Preamp Bias control features 4 bias presets that range from "cold" bias to "warm" bias. Cold biasing is a technique that reduces the amount of electrical current flowing through a tube gain stage. The lower bias, the smaller the the current – and the amplification performance of the gain stage occurs in a different portion of the tubes performance range. This can dramatically alter the tone and feel in unique and pleasing ways.
For example, it is possible to craft a tighter guitar signal with a more focussed dynamic response when running a gain stage with a lower bias current (cold bias). Conversely, it is possible to craft a fat, open guitar signal that is somewhat ambient in the way it loosens up when running a gain stage with a higher bias current (warm bias).  
With the DIRTY SINK 6VEL's Preamp Bias control, it's possible to craft classic, open vintage British flavored tones as well as more modern, focussed higher gain tones and anything in between.
Hand-wired, Turret Board Construction
Made in Nashville, TN
Built by Human Beings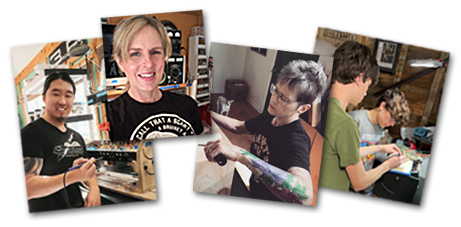 Handwired, Turret Board Construction
The DIRTY SINK 6VEL is made by hand using FR4 board material that we source raw and drill in-house. Each turret is then hand placed and swaged to lock it into position. From there, we hand wire each trace to the back of the board prior to hand picking and installing the components and wire tails.
Feature Rich Back Panel
Foot-Switchable FX Loop, Lead Boost, Bias Test Points, Cooling Fan
The DIRTY SINK 6VEL gives you an all-tube effects loop optimized for pedals as well as rack-mountable gear. You can assign the FX Loop to the Switching Bus to bring it under remote foot switch control.
The DIRTY SINK 6VEL features external multi-meter test points and a fixed-bias adjustment control so you can optimize your power tubes for the best tone and longest tube life.
The DIRTY SINK 6VEL has a chassis mounted fan that pulls fresh air through the chassis and blows it out the bottom. This helps keep the system running cool especially during summer performances. When in the studio, you can turn the fan off to keep things as quiet as possible.
Advanced Foot Switch Control
System Mute, +Gain, FX Loop, Lead Boost

How It Works
The DIRTY SINK 6VEL brings all of these performance features of front panel and foot switch control: System Mute, Preamp Gain Boost, FX Loop On/Off, and Lead Boost. Several features can be assigned to a single button for complex scene control (Gain Boost, FX Loop and Lead Boost can be assigned to the Switching Bus Button). Front Panel Halo LED indicators show status of each feature for confidence during performance.
1307 Jewel Street
Nashville, TN 37207
615-945-3393

© 2021 3rd Power Amplification LLC. All Rights Reserved.