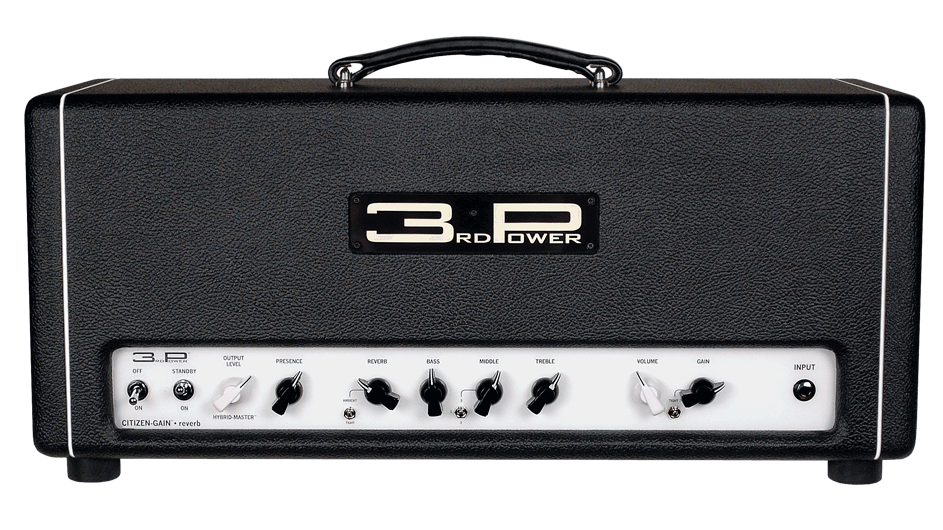 CLASSIC, BROWN, 80s HAIR, 90s GRUNGE & BEYOND…
The 40w Citizen Gain SR represents 3rd Power's take on higher-gain British tones. With custom Mercury Magnetics transformers and internal operating voltages at ~500V, the Citizen Gain SR responds to your touch like a 100w high gain beast yet delivers your tone at practical volume levels thanks to our patented HybridMASTER. Our dual-mode reverb circuitry and on-board tube buffered FX loop let you polish your sound. You'll be amazed by CITIZEN GAIN SR's crisp performance with outstanding precision, beauty and rugged construction.
• Cascaded preamp features Diode clipping mode
• 3 selectable tone stack circuits (JTM45, '68, Modern)
• All tube spring reverb, Dual Mode (Ambient, Tight)
• Patented HybridMASTER™ volume control
• Tube Buffered, Pedal Optimized Series FX Loop
• Illuminating backlit logo
• 2 x E34L power tubes, up to ~40W
• 16, 8 and 4 ohm speaker outputs
• Head or 112 Combo Available
1307 Jewel Street
Nashville, TN 37207
615-945-3393

© 2016 3rd Power Amplification LLC. All Rights Reserved.